reelyActive Technology Platform Overview
An introduction and directory to all diyActive tutorials
The reelyActive technology platform allows computers to understand and measure the real world the same way they understand and measure the web. The low-power wireless devices people and products already carry (BYOD) are identified and located by infrastructure already deployed in physical spaces (BYOI). Our software translates this data stream into the language of the web so that existing web platforms may be extended to real world applications, in real-time.
Our platform relays who/what is where in real-time, using established web standards.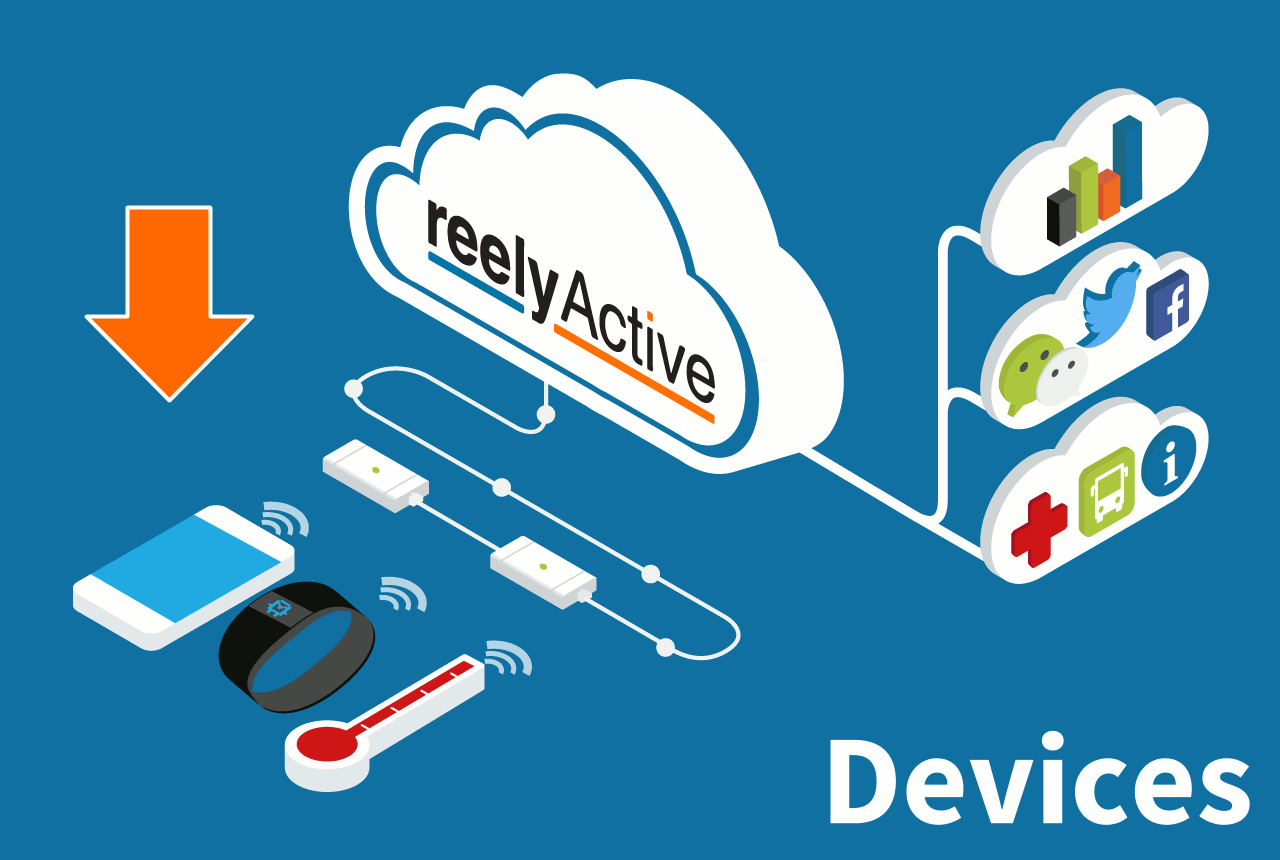 Devices Reels Gateways Software Applications
---
Devices
Radio-identifiable "things" of the real world (BYOD)

While there are tens of billions of connected devices, there are orders of magnitude more identifiable devices. Our platform supports BYOD (bring-your-own-device) for both, identifying and locating such devices in the real-world in real-time.
Reels
Our industrial-grade transceiver infrastructure

At reelyActive, we developed the reel architecture to reliably and cost-effectively extend infrastructure coverage over wide areas. This plug-and-play daisy-chain configuration is as simple as it is versatile.
Gateways and Infrastructure
Third-party receiver/transceiver infrastructure (BYOI)

Our platform is unique in supporting BYOI (bring-your-own-infrastructure). Third-party gateways and smart lighting infrastructure can interface with our software.
Software
Real-time translator of the real-world to the web
Pareto SaaS
The convenience of a hosted Software-as-a-Service

Our Pareto platform processes the data firehose from all deployments, and distributes the real-time contextual information as you define. Pareto lets you focus on solutions rather than software development.
Open Source Software
The freedom to do-it-yourself and to contribute too

We maintain open libraries for an open Internet of Things. And our open source software provides the foundation to develop for specific needs, especially in offline and small-scale applications.
Platform Integrations and Applications
What to do with the real-time data stream

Having translated the real world into the language of the web, our technology platform enables you to extend the power of the web back to the real world in which we live, experience and interact.
---
What's next?
Visit www.reelyactive.com for a non-technical overview, visit getpareto.com to start a trial of our SaaS, or return to the diyActive home page for technical tutorials.