For reelyActive Users & Developers
Our open architecture affords the freedom to do-it-yourself
---
Platform Overview
Understand physical spaces and the real-time dynamics of the people and assets within.
The reelyActive technology platform makes it possible to observe who/what is where/how, in real-time, in any physical space. This is achieved by detecting and locating all the radio-identifiable devices that are present, and then representing this information in the standard language of the web.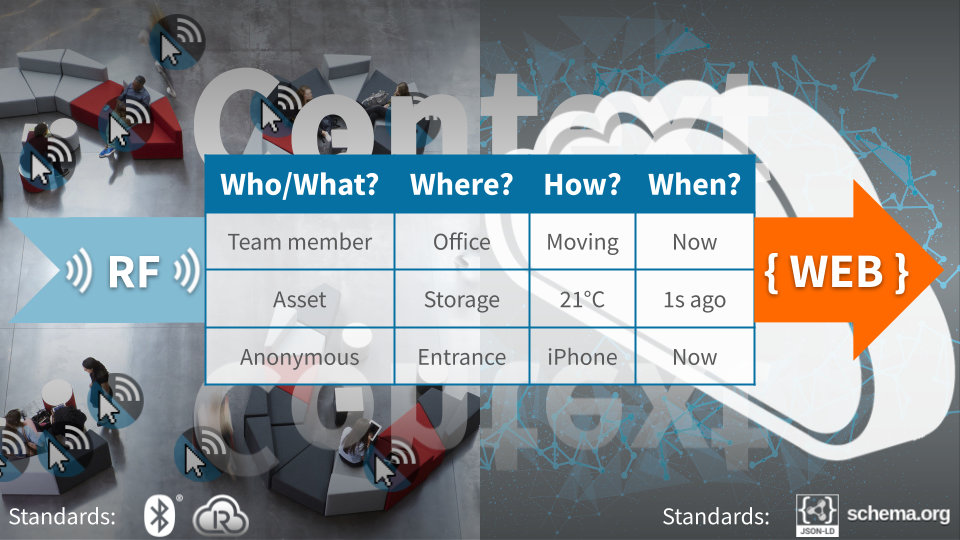 The result is effectively a table of who/what is present, updating in real-time, and including details on the location and status of each occupant. While simple in concept, this table enables complex and wide-reaching applications, especially when stored in a database for analysis over time.
Open Architecture
Enjoy the freedom and flexibility of interchangeable software and hardware components.
Tens of billions of radio-identifiable devices are shipping annually. Countless vendors, including reelyActive, offer radio-identification and location infrastructure. Our open source middleware translates their output into a real-time, web-standard data stream to feed any database and/or drive any web application.
Popular Content
Frequently accessed tutorials and references.
reelyActive on the Web
Related content of interest.